Lovedale is the oldest commercial farm in Namibia still in the same family (since 1854). Offering the most affordable self-catering accommodation in the Helmeringhausen area.
Our aim is to give you the best possible accommodation at the best value for your money!
We offer self catering accommodation, and while you are with us, we introduce you to farming activities, join our hiking trail, and also go for bird watching.
email: helmeringhausen@go.namibiabookings.com
Children are more than welcome. We have a tame springbok as well as a big jungle gym to keep them occupied for very long. Our children enjoy entertaining yours!
Accommodation at Lovedale Farm Helmeringhausen
We offer you the most affordable self-catering accommodation in the Helmeringhausen area. Come and enjoy a relaxed and affordable stay on the oldest commercial farm in Namibia still in the same family (since 1854).
We have 3 self-catering units, fully equipped with bed linen, towels, fridge, stove and everything you need in the kitchen. Each unit has its own BBQ-area where you can enjoy your own BBQ (with succulent swakara chops and sausage, bought locally) with a view over the fields and the docile environment of a windmill in the distance with water falling into the nearby reservoir. The Eagle Village is our open plan units (Bateleur, Black Eagle and Martial Eagle).
This is our contribution to a greener tomorrow with solar geysers, hot water donkeys and solar power for electricity.
The Bateleur can sleep 2 adults with one double bed
The Black Eagle can sleep 4 people with one double bed and one bunker bed and is also wheelchair friendly
The Martial Eagle can sleep 5 people with 5 single beds.
All equipment in the kitchens work with gas and lights are solar powered. One 2-point plug is available in each unit for charging of cell phones, laptops or cameras.
For the cold winter evenings there is a gas heater in the kitchen. A private safe for your valuables like purses and jewelry is situated in each unit.
All units have beautiful views over the farm and trees for shade alongside and in front of them. The bathrooms are all equipped with hot showers, toilets and wash basins.

Activities and Facilities at Lovedale Farm
We have an informal hiking trail, the Aloe trail which is a 45 minute (2km) walk near the farm stead. Alternatively one is welcome to walk in the veld and enjoy the beautiful scenery, game and excellent bird viewing opportunities on the way. swakara farming information tours and farm drives can be done if booked in advance.
The swakara farming information tour is also available for people who is not sleeping over and just want to see what swakara farming is about. The best times for this are in our swakara lambing seasons which are from 20 January to 28 February, 1 July to 30 August and 15 October to 30 November. For these tours booking is essential. These tours are more or less 1-3 hours long.
Bird watching (113 different species have been identified on the farm). Participation in farming activities if staying for two or more days at no extra cost. Swimming in a farm reservoir for the hot summer days are just a few meters away from the campsite. Excellent stargazing opportunities!
BBQ-packs are available for the self-caterer. A restaurant liquor licence enables us to serve beverages, beer and wine. Other fresh farm products like eggs, milk, butter and cream can also be purchased if needed.
BBQ packs (mutton) N$25-00/500grams
Sausage packs (beef) N$30-00/500grams


Where is Lovedale Farm?
We are 19 km from Helmeringhausen on the C27 road to Sossusvlei. Just 300km from Sossusvlei, Lüderitz or Fish River Canyon, Lovedale is definitely the place to stop and relax. We are only 500m off the C27 main road and can be reached with any kind of vehicle, from bicycle to bus!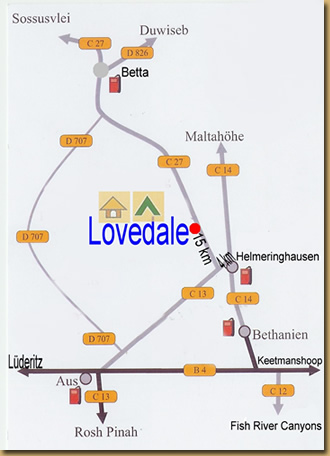 Lovedale Farm Prices
Prices are per
Room Type

High
Season

Mid Season

Low Season

Tba

Tba

Tba

Tba

Tba

Tba

Tba

Tba

Tba

Tba

Tba

Tba

Tba

Tba

Tba

Tba

Tba

Tba

Tba

Tba