Rooisand Desert Ranch is situated on the fringe of the Gamberg Pass in Namibia's Central Region, at the C 26 between the mountain passes of Gamsberg and Kuiseb, halfway between Windhoek (170 km) and Walvis Bay on the Atlantic coast (190 km).
email: sesriem@go.namibiabookings.com
Accommodation at Rooisand Desert Ranch Sesriem
Rooisand has five well-appointed en suite double rooms with all the conveniences and beautiful views of our garden. Our "Wigwam House" between the main building and the tennis courts consists of four single rooms, each en suite.
About 2.5 km from the main farmhouse we offer a fully equipped and very comfortably furnished chalet with 2 en suite double bedrooms, a large lounge, state-of-the-art kitchen and a sundeck with a fireplace.
The chalet sits on top of a mountain and affords truly breathtaking views of Rooisand scenery together with the opportunity to celebrate your very own sundowner every day.
For our guests, who prefer to sleep in the tent or for those who are on the way with a campmobil, Rooisand offers an "outside" campsite, embedded in the magnificent landscape. The campsite has 5 generous separated places -completely plane leveled and stone-free - on sand, so that also tents can be positioned without any problems. Each separated place dispose
· own cold water connection,
· own barbeque grill and
· Power supply (socket-norm European and Namibian, Voltage: 220 volts of alternating current).
Furthermore there are additionally sufficient WC's and showers (with hot and cool water) at disposal (located in the buildings with the blue roof in the Background).
Activities and Facilities at Rooisand Desert Ranch
Pool, Lapa and Bar.
The Lapa: during the day Rooisand's dining room alfresco with local and international cuisine, in the evening bar and our guests' meeting place. The farm's technical equipment is kept far enough away from the guest accommodation as not to disturb your stay.
The farm has a size of some 12.000 ha, a huge area - by European standards. Surrounded by the magnificent scenery of red sand dunes - deposited in distant times by winds from the Kalahari Desert - vast grasslands and rugged mountains, Rooisand Desert Ranch affords its guests a relaxing sojourn with every convenience.
Gamsberg, 2.347 m high and dubbed Namibia's Table Mountain is seen as Rooisand's very "own" mountain.
Our kitchen is equipped to comply with international technical standards for hotel kitchens. We serve a substantial buffet breakfast, a light lunch and coffee and pastries in the afternoon. The kitchen is also able to handle special dietary requirements (e.g. for diabetics).
We have sufficient capacity to cater for larger tourist groups by prior arrangement. Please contact us if you would like to avail yourself of our services
In the evening we have dinner together. Local dishes, German cuisine, Italian pizzas and barbeque specialties are regular items on the menu.
Pair them with one of the excellent South African wines or a Namibian draught, brewed according to traditional German beer purity requirements. As our bar is fully licensed we are allowed to serve any type of alcoholic beverage.

Our Rooisand Team lives in its own little village close to the main farm buildings.
For the religious and social needs of the staff, a church was built on instruction of the farm's German owner and consecrated by the Bishop of Windhoek. Church services are held on a regular basis.
Guests who would like to attend a service are most welcome to do so.
Next to the church another building was put up. It houses consulting rooms for the travelling "bush doctor", who looks in once a month, and other rooms for social purposes.
Direction to Rooisand Desert Lodge
Coming from Windhoek:
Rooisand Desert Ranch is situated on the C 26, almost exactly halfway between Windhoek and Walvis Bay.
The distance to Rooisand is 175 kilometres, which can be covered comfortably in roughly 2½ hours, allowing for speeds adapted to gravel roads.
Leave Windhoek on the C 26 heading west. Not far out of the city you cross Kupferberg Mountain and pass farm Amani. After another 30 kilometres you turn left and continue on the C 26 towards Walvis Bay via Gamsberg Pass.
Once you have crossed Gamsberg Pass (please drive carefully) it will take you about 30 minutes to reach Rooisand Desert Ranch.
From Swakopmund/Walvis Bay:
Leave Swakopmund on the B2 and drive south to Walvis Bay. There you turn onto the C 14 and head east.
After 130 kilometres you come to the Kuiseb Pass.
After another 20 kilometres the C 14 continues straight towards Solitaire and the C 26 forks off to the left.
Turn onto the C 26 and after 30 kilometres you will see Rooisand Desert Ranch on the right-hand side of the road. If you drive at an appropriate speed your total travelling time will be about 3 hours.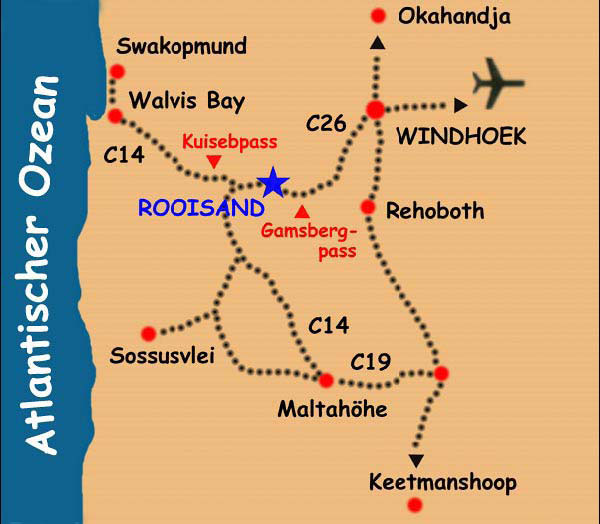 Rooisand Desert Ranch Prices
Prices are per
Room Type

High
Season

Mid Season

Low Season

Tba

Tba

Tba

Tba

Tba

Tba

Tba

Tba

Tba

Tba

Tba

Tba

Tba

Tba

Tba

Tba

Tba

Tba

Tba

Tba