Casa Blanca Hotel is easily accessible from the Windhoek International Airport on the B6, Sam Nujoma drive, Mandume Ndemufayo Rd and Hintrager Street.
Email: windhoek@go.namibiabookings.com

The original house was build in 1970 by a Mr. Schultz in the style of Fort Namutoni, where he was one of the pioneer game ranger. He passionately created also the indigenous garden where the beautiful old trees are now spending welcoming shade.
The house changed hands several times and in 1999 Elke & Peter Young became the proud owners of a dilapidated old castle. Peter saw a lot of work and Elke an incredible potential.
Extensive renovations were done. A year later a new old castle with white walls, Spanish styled wrought iron, balustrades, arched windows and terracotta tiles opened its gates for guests.
Now it is a stylish place with a special ambience of elegance, easy and carefree living and complimented by excellent service.
Our homely restaurant serves sumptuous breakfasts and romantic patio dinners at sunset, as well as selected wines of Cape Origin.
Our large air-conditioned en-suite rooms are elegant and stylish with an old world ambience. For additional comfort and convenience each room has:
- free wireless internet connection
- airconditioning
- a minibar
- television and satellite channels
- a safe
Casa Blanca Hotel also offers:
- a gym and lapa
- Swimming Pool
- Barbeque, light meals and dinner can be offered
- Secure Parking
- Library
- Room Service and Laundry Service
- An Elegant Lounge
- All Credit Cards are Accepted
- Spoken Languages are: English, German and Afrikaans
- Shuttle service can be arranged
- Boma with fireplace
- Bar
Casa Blanca Prices
Prices are per
Room Type

High
Season

Mid Season

Low Season

Tba

Tba

Tba

Tba

Tba

Tba

Tba

Tba

Tba

Tba

Tba

Tba

Tba

Tba

Tba

Tba

Tba

Tba

Tba

Tba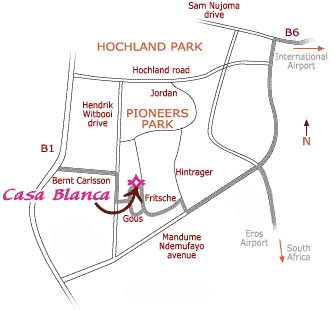 Location
52 Fritsche St (entrance Gous St)
From the Windhoek International Airport on the B6 to Windhoek (B6 becomes Sam Nujoma drive) - Turn off Sam Nujoma drive left into Mandume Ndemufayo Rd.
Pass 5 traffic lights and at the circle turn right into Hintrager Street and immediately left into Fritsche Str.