Email: windhoek@go.namibiabookings.com

Just five minutes' walk from the centre of Windhoek, yet miles from the noise and traffic of the mainstream. Villa Verdi is true African chic.
The first thing that strikes you about Villa Verdi is the beautiful combination of European elegance and African dècor in spacious, comfortable settings.
The villa consists of 13 standard rooms, 3 apartments and one luxury suite, set a comfortable five minutes walk from the city centre with its collection of stately buildings, bustling shopping centres, beer gardens and tourist attractions.
The rooms are luxurious and all have en suite bathrooms, mini bars, telephone, and televisions. The sparkling pool offers instant relief from the African heat and is the central hub of the hotel.
Each room has been individually appointed utilising locally handcrafted art to complete the overall ethnic look.
As it is so near to Windhoek's centre, it is an ideal base for business travellers, and in recognition of this, Villa Verdi make fax facilities and a conference room available.
Looking across the swimming pool in the garden, a panoramic view of the Auas Mountains reminds you that you really are in Africa.
Villa Verdi is far more than mere accommodation. It is a home of sophisticated travelers and business people seeking exclusive tranquillity in the luxurious surroundings normally associated with a fine hotel.
· Rooms have en-suite bathrooms and are equipped with a Mini-Bar, Telephone and TV
· Conference Room and Fax Facilities
· Swimming Pool
· Enjoy the view of the Auas Mountains
· Relax at the Swimming Pool
· Pay a visit to Windhoek City Centre
Villa Verdi Prices
Prices are per
Room Type

High
Season

Mid Season

Low Season

Tba

Tba

Tba

Tba

Tba

Tba

Tba

Tba

Tba

Tba

Tba

Tba

Tba

Tba

Tba

Tba

Tba

Tba

Tba

Tba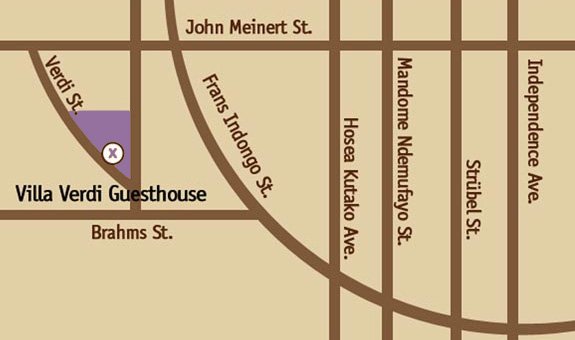 Location
Located 5 minute's walk from Windhoek City Centre in Verdi Street 4.