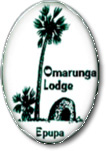 Situated on the banks of the Kunene river, Omarunga Lodge is the very picture of the beauty and serenity of nature at her finest.
Hidden in a forest of Makalani Palm trees with the sound of the river to accompany you while taking a walk, or simply relaxing, it is hard to imagine a more peaceful and tranquil setting.
email: epupa@go.namibiabookings.com

Accommodation at Omarunga Lodge
We have 13 luxury, en-suite chalets and one luxury family chalet in the shade of a Makalani Palm forest. All units offer all the comforts of a home away from home.
We also have 9 Camping Sites with ablution blocks (hot water) next to the river. Swimming in the river are unfortunately not allowed (crocodiles), but we have a beautiful swimming pool available for our guests on the premises. Campers are also free to use our restaurant but booking is essential.
Restaurant and Bar:
Our excellent restaurant and bar are located in a lapa on the river bank. We also have a little curios shop for a small momento of your visit.
We are situated about 435km by road from Kamajab on the banks of the Kunene river.
Amongst others, we offer the following activities:

Ovahimba Trips:
We offer daily guided trips to visit a nearby Ovahimba village. The Ovahim ba people are a semi-nomadic, pastoral people, closely related to the Herero, and speak Otjihimba, a dialect of the Herero people.

Epupa Falls:
The river is 0.5 km wide and drops in a series of waterfalls spread over 1.5 km, with the greatest single drop being 37 m.
The name "Epupa" is a Herero word for "foam", in reference to the foam created by the falling water. The falls can be visited on your own or by guided tour on request. We also do sundowner drives daily.
Fly-In Safaris:
Fly-in Safaris are more than welcome and we will be happy to assist with any arrangements. A link to Immenhof Fly-In Safaris are also provided on this page.
Rafting:
The Kunene River is an excellent destination for rafting enthusiasts. Rafting excursions can be arranged on request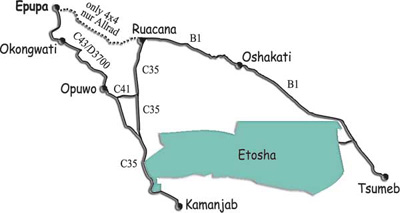 Omarunga Lodge Prices
Prices are per person per night
Room Type

Rates

Dinner, Bed & Breakfast

Per person sharing

N$ 1345.00

Single room

N$ 1705.00

Guide DBB

N$ 750.00

All Inclusive

Per person sharing

N$ 2370.00

Single room

N$ 2730.00

Guide (IDBB)

Campsite - Per person

N$ 120.00

email: epupa@go.namibiabookings.com