Otjiwarongo was established in 1892, and is considered one of the oldest towns in the country. The word "Otjiwarongo" is derived from the Herero language meaning the beautiful place. Mount Etjo Safari Lodge, situated in the Okonjati wilderness area 255 km north of Windhoek, is one of the best-known Namibian lodges in international circles.
It was established 24 years ago by Jan Oelofse, an expert in conservation
Email: otjiwarongo@go.namibiabookings.com

Mount Etjo Safari Lodge, situated in the Okonjati wilderness area 255 km north of Windhoek, is one of the best-known Namibian lodges in international circles.
It was established 24 years ago by Jan Oelofse, an expert in conservation.
The dam at the lodge, as well as the waterhole close to the Black Rhino Bush Camp, is bird-watcher's paradise.
The secluded eight-hut bush camp with its communal recreational area nestling in the thick bush, is latest addition to Mount Etjo.
The camp is perfect for small groups, managerial get-togethers and weekend brainstorming.
It was founded by the world-renowned conservationist, Jan Oelofse. Etjo means 'A place of refuge.' The camp is a perfect destination for small groups and managerial gatherings, and for self-drive tourists traveling to Etosha National Park, and further north on to the Caprivi.
The new Namibia was born at Mount Etjo Lodge, where the historic 1989 Mount Etjo Declaration was signed under the supervision of the United Nations.
The swimming pool and garden at the main lodge overlook a waterhole, where hippo, nyala and porcupine visit on a regular basis.
It is an ideal opportunity for guests to observe animals quenching their thirst, whilst enjoying a drink at the bar themselves.
It goes without saying that the closeness of the animals here, offer an excellent opportunity for nature lover and photographer alike.
Ornithologists should head to the dam at the lodge, a bird watchers paradise.
Mount Etjo Lodge Accommodation
Luxury accommodation is in 'The Suite,' a magnificent double apartment, furnished with a king-size bed, en-suite bathroom with large round bathtub, a private dining and sitting room, as well as a private garden with Jacuzzi.
The 'Junior Suite' is also furnished with a king-size bed, en-suite bathroom with jacuzzi and a small lounge.
Single and double rooms are fitted out with two double beds, spacious en-suite shower and toilet facilities, with a jacuzzi.
Mount Etjo Safari Lodge. A place of refuge for their wildlife, with comfortable and homely accommodation for their guests.
The secluded eight-hut bush camp has a communal recreational area, nestled amongst thick bush.
Mount Etjo Safari Lodge Facilities
Restaurant
Swimming Pool
Garden
Laundry Facilities
non-Smoking Rooms
Lounge
Disabled Access
Secure Parking
En-suite Rooms
Mini Bar
Air Conditioning
Fan
Coffee/Tea Station
In Room Safe
Jacuzzi
Activities
Relax at the swimming pool
View game and 30 different species of Antelope on a game drive
Bird watching
Dinosaur tracks as well as fossilised Buffalo tracks only 3km away

Game Drives
in open vehicles, where you will enjoy the sanctuary's fauna and flora.
Animals, which may be observed range from Elephant, Black and White Rhino, Zebra, Hippo, and many different species of antelope We offer lion feeds after sunset, where you will have the opportunity to observe the cats feeding from a close distance.
Due to our black Rhino Breeding Program in conjunction with the Namibian Government, the lions are kept on a large separate portion of the game sanctuary, mainly by feeding them at a specific spot. This minimizes predation on black rhino calves and other rare species roaming the Sanctuary.

Game Walks
are offered as well as walks to the famous Dinosaur Footprints, dating back to 230 Million years, described as Saurichnians.
Four different tracks have been found, however too little evidence has as yet been found to confirm the exact species.
For shorter walks, participate on the guided walks to the fossilised Buffalo Tracks, which give the sanctuary it's name "Okonjati".

Rare Species Game Sanctuary
Specially guided game drives will take you to visit this area of 4000 hectares, which offers a protected refuge for the indigenous Black-faced Impala, the Roan and Sable Antelope, Red Lechwe and Bushbuck and others.
Mount Etjo Lodge Prices
Prices are per person per night
Room Type

Rates

Standard Rooms - per person

N$ 1650.00

Junior Suites - per person

N$ 1785.00

Luxury Villa - per person

N$ 3150.00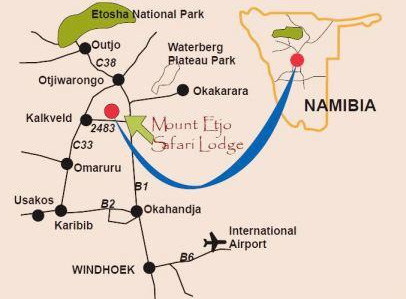 Directions
From Swakopmund:
Swakopmund - Usakos - Omaruru - to Kalkfeld. Take the only road that turns right in Kalkfeld over the railwayline. Follow the sign indicating "Dinosaur-Tracks" and "Mount Etjo" for approximately 17km.
Turn left at road 2483, where there is a sign indicating Mount Etjo Safari Lodge. Follow the road for another approximate 14km and Mount Etjo is to your left.

From Windhoek:
Drive north through Okahandja towards Otjiwarongo. At 180km past Windhoek on the B1, you will find a turn-off to the left, which is marked with the number 2483 and Mount Etjo Safari Lodge. Follow the dirt-road for approximately 42km, Mount Etjo welcomes you on the right-handside of the road.