Namibian Hotels, Lodges & Camps by Area
Etosha National Park
Hotels & Lodges
Self catering
Camping
Towns near Etosha
Otavi
Tsumeb
Outjo
Grootfontein
Namib Desert
Sossusvlei & Sesriem
Lodges
Self Catering
Camping
North Namib Desert
Naukluft
Solitaire
South of the Namib
Bethanien
Maltahohe
Helmeringhausen
Central Namibia
Windhoek
Okahandja
Waterberg
Otjiwarongo
Omaruru
Usakos
Rehoboth
The far South of Namibia
Fish River Canyon
Ai Ais
Hobas
Seeheim
Aus
Noordoewer
Karasburg
Rosh Pinah
The Coast of Namibia
Swakopmund
Walvis Bay
Skeleton Coast
Luderitz
Henties Bay
Damaraland (north west)
Uis
Khorixas
Kamanjab
karibib
The Far North of Namibia
North West
Kaokoveld
Palmwag
Purros
Opuwo
Ondangwa
Oshakati
Ruacana
Epupa

North East
Caprivi Strip
Okavango Delta
Rundu
Katima Mulilo
South Kalahari Desert
Keetmanshoop
Grunau
Central Kalahari
Gobabis
Mariental
Eastern kalahari Botswana border area
Buitepos
If there is one picture to represent Namibia it would probably be a picture of the dunes in and around Sossusvlei.
The entire area is colloquially referred to as 'Sossusvlei' but being techinically correct this particular area is The Namib Naukluft Park and includes:
Sesreim - the entrance point into the Namib Desert.
Sossusvlei - Where you drive into to view the dunes around Deadvlei.
Naukluft - The majestic sunlit mountains that edge the Namib Desert.
The map at the bottom of the page shows where each lodge is relation to Sesreim and Sossusvlei
Sossus Dune Lodge Sesreim Inside the Park Gate at Sesriem

Price

Built in an environmentally sensitive manner, primarily from wood, canvas and thatch, in an attractive 'afro-village' style, Sossus Dune Lodge will offer guests an evocative and life changing experience. Situated within the park, guests will benefit from being able to reach Sossusvlei before sunrise, and to stay until after sunset. Read more about Sossus Dune Lodge
Sesriem Camping Sites Inside the park Gates at Sesriem

Price

· 20 Camping Sites in the shades of ancient camel thorn trees
· Each Camping Site has its own Fire Place and Water Point
· Communal Ablution Facilities
· Swimming Pool


Read more about Sesreim Camping
Sossusvlei Lodge Sesreim Namib Desert 0.5km from Sesriem gate

Price

This luxurious desert resort was built with adobe bricks typical of Arabian villages and tents similar to those of the Bedouin.
The lights are solar-powered and, as the 45 tent cum rooms have en-suite showers instead of baths, you can have a unique swim in the desert by splashing in the clear, cool pool. Read more about Sossusvlei Lodge
Desert Camp Sesreim 7km from Sesriem Namib Desert

Price

For the budget traveler, this offers true African ambiance. Affordable Luxury accommodation, each with en-suite bathrooms and tastefully decorated. Reflects the special hues of the Namib Desert. For groups traveling together, a cozy self-catering communal boma with dining and wash up facilities is provided. Read more about Desert Camp
Desert Homestead 32km from Sesriem Namib Desert

Price

Desert Homestead has been skillfully designed to incorporate all the features that guests loved about the original lodge, whilst enjoying the benefit of a pristine location only 31.5km from Sesriem.The twenty thatched chalets ensure our guests a more comfortable stay. Read more about Desert Homestead
Namib Desert accommodation on the north of Sesreim Gate into Sossusvlei
Weltvrede Guest Farm Namib Desert 47 km north from Sesriem

Price

ln the heart of the Namib Desert, bordering the Namib Naukluft Park, is Weltevrede, a paradise for photographers. Accommodation is in bungalows with en suite bathrooms, where you will enjoy personalise service and hospitality. After an adventurous day you can cool off in our sparkling pool and enjoy delicious farm cuisine. Activities include scenic walks, game viewing, 4x4 excursions, day trips to Sesriem Canyon and Sossusvlei dunes, camping in the desert. Read more about Weltevrede Guest Farm
Agama River Lodge site 50 km north from Sesriem

Price

We are situated on the C19, 30 kms south of Solitaire and 50 kms north of Sesriem, approximately forty five minutes from the main gate way to Sossusvlei. Most visitors utilize our facilities as an overnight access point to Sossusvlei and the Namib Naukluft hiking trails. We also offer self guided walks into the mountains. Pre-arranged meals for groups, events and / or individuals as well as breakfast packs are available. For those who don't have camping equipment we will provide tents, bedding, crockery and cutlery for an additional fee. We do also supply a limited amount of firewood but not ice. We are connected to the main grid (Nampower) so our chalets and restaurant have a reliable power supply.
Agama River Camp site 50 km north from Sesriem

Price

This amazing accommodation provides camping only. A cool, shaded campsite, it is situated so close to nature, that the call of wild animals can be heard through the night. Read more about Agama Camping
Namib Desert Lodge Sesreim 52km north of Sesriem

Price

The main building and the chalets are spread out along the foot of the 'fossilized' dunes of the ancient Namib. A comfortable stay is guaranteed by 55 en suite rooms. A restaurant and bar, an inviting terrace with views of the fossilized dunes and two swimming pools beckon you to linger and relax. Oryx antelope and springbok make frequent appearances at our illuminated watering place. Read more about Namib Desert Lodge
Ababis Guest lodge 52km north from Sesriem Namib Desert

Price

Ababis is one of the oldest farms in the south of Namibia where we farm with cattle and ostriches. Enjoy our 5 comfortable rooms each with private bathroom and verandah. Come rest in the shady garden and enjoy the good food and selected wines. Experience the red dunes of Sossusvlei, Sesriem and the magnificent Naukluft Mountains with marked hiking trails. Go on nature walks on our farm and visit the Fossil Dunes here.Read more about Ababis Guest Lodge
Namib Naukluft lodge Namib Desert 56km north from Sesriem

Price

Listen to the evening sound of the barking gecko – a concert never to be forgotten. The clear night sky invites you to an unreal stargazing experience. Try to spot the Milky Way and the Southern Cross! We'll show you the oldest desert on earth.
Our friendly staff will make your stay unforgettable.
Read more about Namib Naukluft Lodge
Places to stay In the small Namib Desert town of Solitaire
Solitaire Guesthouse 65 km from Sesriem Northern Namib Desert

Price

Solitaire Guest house is a great location from which to base your day trips and excursions to these destinations. The farm is situated at the foot of the rugged Rand Mountains with a breathtaking view over the vast Namib Desert and beautiful Naukluft Mountains.
Enjoy delicious African farm cuisine in our thatch-roofed "lapa" while enjoying the sunset and watching wildlife at our illuminated watering hole.
Read more about Solitaire Guest Farm
Solitaire Country Lodge 65 km from Sesriem Northern Namib Desert

Price

The mystic little town of Solitaire does justice to its name in more than one way and a stop-over on you tour of south-western Namiia is a must. Fuel, tyre repair, general dealer, home baked bread and apple pie, a 25 Bedroom lodge with swimming pool, camping and limited meals are on offer in an environment with a unique character and unsurpassed hospitality Read more about Solitaire Country Lodge
Solitaire Guest Farm Camping 65 km from Sesriem
Northern Namib Desert

Price

Solitaire Guest house is a great location from which to base your day trips and excursions to these destinations. The farm is situated at the foot of the rugged Rand Mountains with a breathtaking view over the vast Namib Desert and beautiful Naukluft Mountains.
Enjoy delicious African farm cuisine in our thatch-roofed "lapa" while enjoying the sunset and watching wildlife at our illuminated watering hole.
Read more about Solitaire Guest Farm
Solitaire Camping 65 km from Sesriem Northern Namib Desert

Price

The mystic little town of Solitaire does justice to its name in more than one way and a stop-over on you tour of south-western Namiia is a must. Fuel, tyre repair, general dealer, home baked bread and apple pie, basic camping and limited meals are on offer in an environment with a unique character and unsurpassed hospitality
Read more about Solitaire Camping
Namib Desert accommodation South of Sesreim / Sossusvlei
Le Mirage Desert Lodge & Spa 21km south from Sesriem

Price

Le Mirage Desert Lodge & Spa is located only 21 km from Sesriem the entrance gate to the Namib Naukluft Park and Sossusvlei. The Lodge is a harmonious blend of luxury and nature with each room offering a spectacular view of the Namib Desert. Guests are accommodated in 26 luxury rooms with en-suite facilities, air-conditioning, safe, mini bar and a coffee & tea facilities. The lodge has a spacious restaurant sheltering guests again the harsh desert climate. Read more about Le Mirage Desert Lodge
Little Kulala Exclusive Camp Namib Desert 30km south of Sesreim

Price

Little Kulala is situated on a large private reserve, bordering the Namib Naukluft Park, in the heart of the Namib. This exclusive camp offers magnificent views of the famous red dunes of Sossusvlei, mountainous scenery and vast open plains. Little Kulala has eight thatched and canvas chalets of Kulalas, each built on a wooden platform to provide maximum airflow. Read more about Little Kulala Camp
Kulala Desert Lodge Namib Desert 37km south from Sesriem

Price

The main lodge, with décor inspired from Northern Africa, has a lounge, pub, dining area and plunge pool, and offers a wrap-around verandah that overlooks the waterhole and provides a perfect location to view and photograph the desert sunset. Early morning guided game drives to the spectacular dunes are through a private gate on the Tsauchab River. Read more about Kulala Desert Lodge
Kulala Wilderness Camp Namib Desert 37km south from Sesriem

Price

Kulala Wilderness Camp is a nine-roomed camp situated in the heart of Namibia's Namib Desert on a 46,000 acre private reserve near Sossuvlei.
The camp is built at the foot of a mountain and comprises of 9 tents on elevated wooden decks which are linked to the main dining room, bar, reception area and swimming pool by pathways.
Read more about Kulala Wilderness Camp
Betesda Lodge and Camping Namib Desert 40km from Sesreim

Price

Guests can relax at a cool swimming pool. The Dining area at the Guest House caters for excellent farmhouse style meals which is prepared with great care by the hosts especially for you. You can also enjoy an ice cold Namibian brewed beer whilst the sun is slowly setting behind the mountains. Read more about Betesda Lodge and Camping
Hammerstein Lodge & Camping 52km south from Sesriem

Price

Situated halfway between Lüderitz and Swakopmund is Hammerstein Rest Camp, the ideal stopover for travellers to the south of Namibia. Visitors to Hammerstein have a choice between bungalow equipped for self-catering, full board or camping facilities. Read more about Hammerstein Lodge
Wolwedans Dunes Lodge south Namib Desert

Price

Wolwedans Dune Lodge has a total capacity of 16 bed, with the possibility of a honeymoon suite.
Nestled amidst the dunes in the heart of NamibRand Nature Reserve about 80 km south east of Sossusvlei. The particular attraction of NamibRand is the diversity of different desert landscapes.

Read more about Wolwedans Dunes Lodge
Namib Rand Family Hideout south Namib Desert

Price

A self catering house in the desert on the south Namib rand reserve, with spectacular views over the vast plains and ancient blue mountain ranges.,,,peace and tranquility are guarenteed! Read more about Namib Rand Family Hideout
Wolwedans Dune Camp Namib Desert

Price

Wolwedans Dune Camp has 7 accommodation units and a lapa area where sundowners, dinner and breakfast is served.
Nestled amidst the dunes in the heart of NamibRand Nature Reserve about 80 km south east of Sossusvlei.
Read more about Wolwedans Dune Camp
Sossusvlei Wilderness Camp Namib Desert

Price

Sossusvlei Wilderness Camp is located in one of the most remarkable sites in the Namib Desert.
The camp is situated on a 21 000 hectare private reserve, 20 kilometres from Sesriem.
The camp's location provides easy access to Sossusvlei, yet also offers privacy and exclusivity.
Read more about Sossusvlei Wilderness Camp
Sossusvlei Mountain Lodge Namib Desert

Price

Cradled against the ancient mountains, Sossusvlei Mountain Lodge offers a highly sophisticated desert experience, which echoes and embraces the haunting beauty of its environment.
The main lodge is an ensamble of glass and stone curves, where walls have become windows or fold away completely, welcoming inside the magic of the desert. Read more about Sossuvlei Mountain Lodge
Tolous Lodge Namib Desert

Price

They have 15 twin bungalows, each with its own shower and toilet. The roof also acts as an open-air bedroom – the guests only have to bring their own mattress and sleeping bag.
The guest can also experience breathtaking sunsets while sipping sundowners on the "roof patio".
The restaurant and ladies bar cater for breakfast and dinner. Read more about Tolous Lodge
Hoodia Desert lodge Namib Desert 15 minutes drive from Sesreim

Price

The Lodge is situated on the banks of the Tsauchab river and only 15 minutes drive from the Sesriem entrance to Sossusvlei.
The ideal location to start exploring this area. The Hoodia Desert Lodge consists of 12 luxury en-suite and air-conditioned tented bungalows. These bungalows offer you the privilege of privacy and relaxation. Read more about Hoodia Desert Lodge
Hauchabfontein Camp 59 km from Sesriem

Price

The camping site is ideally located as a base camp to visit the surrounding attractions: The Sesriem/Sossusvlei (59 kilometer), the Naukluft (44 km) and the Neuras winery (22 km). Secluded behind mountains lies a quiver tree forest with many hundreds of quiver trees, unique to Namibia. Read more about Hauchabfontein Camping
Map of Namib Naukluft showing accommodation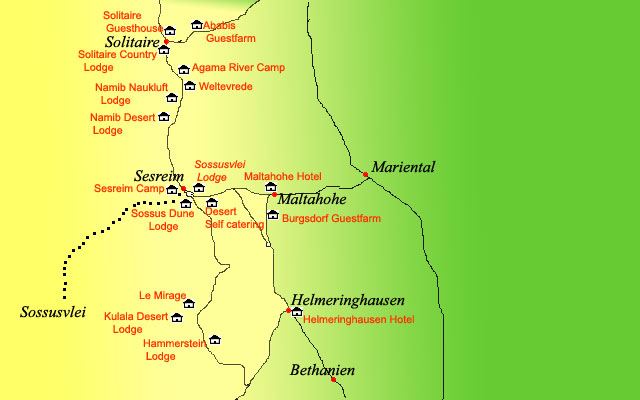 Larger scale map of Southern Namib Desert Namibia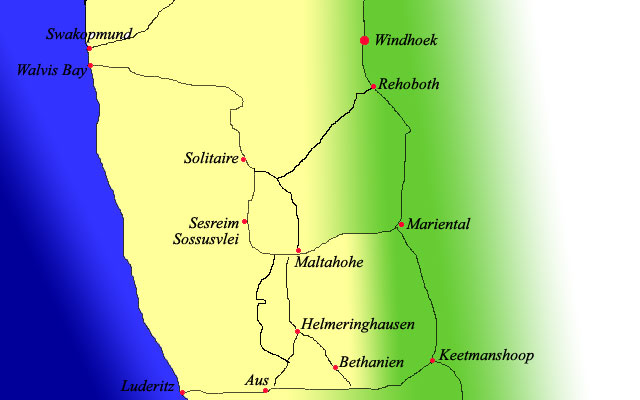 Facilities in Sesreim


Map showing Sesreim in Namibia
Distances from Sesreim to
Windhoek 319km
Sesreim 0km
Swakopmund 297km
Fish River Canyon 720km
Luderitz 559km

Borders to Sesreim
Ariamsvlei - SA 833km
Noordoewer - SA 821km
Velloorsdrift - SA 825km
Buitepos - Botswana 877km
Ngoma - Botswana 1597km
Wanela - Zambia 1657km
Kazangula - Zambia 1667km